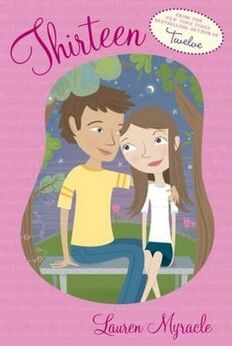 March
It's Winnie's birthday! Winnie is finally a teenager at last and she loves it! She celebrates with her best friends, Dinah and Cinnamon. They all go to Lenox mall where they go inside Neiman Marcus to the Bobbie Brown makeup station. They all get beautyfied but Winnie can't help but notice that she feels jealous when she sees Dinah looking really pretty with her makeup on. However she pushes the jealousy down and gets pampered with makeup. In the end, Winnie ends up buying pink eyeshadow, Dinah gets a lip stain, and Cinnamon gets green eyeshadow. They leave to go to the food court where they pose for pictures in the photobooth.
Later that night, Dinah and Cinnamon are at Winnie's house for a sleepover. They are deciding who gets which picture and Cinnamon tells Winnie that she should give one of them to Lars but Winnie says that she would be too embarrassed so Cinnamon takes the picture and decides to give to to Lars herself. 
Winnie feels happy and expansive, not jealous. She concludes that "there is both good and bad in the world, and more often then not, they're mixed together."
Winnie was now officially 13, she could do anything
Winnie admits that she wants Lars, she finds herself daydreaming about him in the morning before school. A little later Winnie calls Sandra to come and drive her to school but Sandra is in a bad mood. In the car Sandra wont tell Winnie what the problem is and she makes Winnie feel bad. Winnie thinks that she and Bo are having a fight.
At lunch, Winnie talks about the Sandra situation to Dinah and Cinnamon. Winnie also talks about the fact that nothing more is happining with Lars. Nothing special has really happened after the hand holding event. Cinnamon tells Winnie that sometimes girls have to be fierce when it comes to boys. But Winnie already thinks that shes fierce because of the Toby incident that happened in sixth grade.  While they're talking, Cinnamon notices Lars entering the lunchroom. Winnie turns into hyper-Winnie and she puts on a show. Lars walks over to Winnie's table and he says hi to her and her friends. Before he walks away Lars says "See you in class?" Winnie decides to flirt and says "If you're lucky."XD
On Friday morning it was Sandra's birthday but Sandra was mad again and it was because of Bo. Winnie asks why and Sandra tells her that Bo went over to a girls house to study. Winnie becomes very interested because she wonders if high school is like that. Winnie's mom interupts because Winnie's little brother Ty is crying because of girl troubles. Ty tells Winnie that Bo is throwing Sandra a surprise party and is giving her a ring. Winnie becomes very happy because now she knows that Bo isn't cheating on Sandra. Ty and Winnie also make a deal that Ty will ask the girl he likes, Lexie, to swing with him if she kisses Lars. Winnie agrees. Winnie talks to her mom about the fact that its odd that the girl-boy thing starts so young. Winnie's mom tells Winnie that she was a natural flirt ever since she was little.
Cinnamon calls Winnie and Dinah and tells them to meet her at Memorial Park. Cinnamon has news about an eighth grader named Brad who threw a party last night. Winnie bikes to Memorial Park with beignets and milk and she meets Dinah and Cinnamon at a play structure. Cinnamon tells them that the party was unchaperoned and it had beer and wine coolers and gin. She also tells them that their nemesis's Gail and Malena drank. She also told them that Winnie's ex- bestfriend Amanda drank a peach wine cooler and kissed Alan Bauer in the hot tub. Winnie was shocked because Amanda was never like that. Cinnamon also tells Winnie to be prepared for Brad's party next weekend. Lars called Winnie to invite her. Cinnamon tells Winnie not to worry because Brads parents are going to be there. Cinnamon also tells Winnie that if Amanda can kiss Alan then she can kiss Lars. Dinah agrees with this. 
Later that day Winnie goes to find Bo and Sandra in their backyard. She asks them if they can dicuss kissing. Sandra tells Winnie that it will come naturally. Bo and Sandra demonstrate.
When the party finally rolls around Sandra drives Winnie to the party. Winnie enters the party and Steffie tells Winnie that Lars is in the back. Winnie feels happy that people know to connect her with Lars. Winnie spots Lars in the TV room playing on Bryce's Xbox. Lars gets distracted by Winnie's presance and he loses the game to Bryce. Lars takes Winnie's hand and guides her away where they go to the kitchen and talk to Bryces mom. They leave again to go the the backyard where they talk about Brad's party and Winnie pretends like she dosnt know anything. Lars tells her that some 7th graders got drunk. He told her that Amanda was trashed.They were walking to a stone bench that was built into the wall and they sat down and Lars put his arm around Winnie. Lars looked at Winnie and Winnie knew that he was going to kiss her. Lars leans in but Winnie is too nervous and backs away. He tries again but Winnie won't keep still. He holds her head and whispers be still. They kiss, first hesitatintly and then not.
June
Winnie is graduating 7th grade! Winnie is at the graduation and she squeezes her feet into really cute shoes! Winnie's mom talks to other moms and Amanda's mom comes over to join the conversation. Amanda is with her and she motions for Winnie to come talk to her. Amanda asks about Lars and it surpises Winnie that she knows about that. They talk a little more untill Dinah and Cinnamon run over and pull Winnie away. 
Lars and Winnie meet at the mall the next day because Lars was flying to Prauge the next morning. They met at California King Pizza. They make small talk and Lars touches Winnie's face which causes Winnie's pulse to race. When they were done with the pizza they went behind a concrete pillar and kissed. 
Sandra picks Winnie up from her date with Lars. Winnie asks Sandra if she and Lars would make it, to which Sandra replied "If what you guys have is real, it'll last. If not, it won't."
At home Winnie spends time with her little brother, and we learn that Winnie wishes that she could make stink noises, raise one eyebrow, pop her elbow out, make her scalp wiggle, whistle through two fingers, and do a split. But Winnie could already curl her tounge, bend each finger from the top knuckle without letting the middle knuckle move, and sit in a lotus position. She leaves Ty to go talk to her mom about Joseph, a kid from Ty's class. She overheard the parents talk about Joseph but she didnt hear the full story. She learns that Joseph has Leukemia.
The next day Winnie goes on her new laptop to find about locks of love. She wanted to do something to help kids like Joseph. She found out that hair had to be 10 inches long to donate. She measured her hair to be fifteen inches. But Winnie knew that fifteen inches of hair wasn't a lot, so she figured that she should grow her hair out at least 3 inches more. That ment she wouls have to wait half a year to donate. She was sad that she couldnt do it right away but she knew that time would fly by. 
Summer was finally here, and even without Lars Winnie loved it. On a usual day she would eat some breakfast, watch a show or two of Dawsons Creek or of Flight 29 Down. Then she would bike to the pool to meet Cinnamon and Dinah. But today was not a normal day because Winnie's mom was driving her to Cinnamon's house. Cinnamon's mom was taking Cinnamon and Winnie camping in Pisgah Forset. 
The first two-thirds of the ride was smooth and easy, but the last hour made Winnie sick. Cinnamon noticed and assured Winnie that they were almost there because they were now near the "R U LOST, OR R U SAVED" rock. When they finally reached the campsite, they met the Gibsons who where there camping as well. Winnie and Cinnamon went to meet Adam and Logan. Adam was Winnie's age, and Logan was eight years old. The grown ups made Winnie and the others to go make dinner. By the time everyone ate and cleaned up, it was dark. Winnie really liked the fire, but the smoke kept following her. Later on Logan told Winnie that there were escaped murderers in the Forest. Adam corrected him saying that there was only one, and not many. This did nothing to calm Winnie down. Cinnamon asked her mom if this was true, and Mrs. Gibson said that they saw it in the news, but they had nothing to worry about. 
In the night, Cinnamon and Winnie were in their tent. Cinnamon asked Winnie if she could come with her to use the bathroom. Winnie got up and went with Cinnamon. When they were walking back to their tent, they heard a moan coming from the campsite. Winnie tried calling for help. Mr. Gibson woke up to see what all the fuss as about. Cinnamon and Winie ran over to Mr. Gibson and he trained his flashlight on Adam and Logan's tent where they saw a hunched figure. Mrs. Gibson was yelling for someone to get the axe. Mr. Gibson could'nt find the axe, but Winnie saw it next to a pig shaped stump. She ran to get it and lifted it over her head. When Winnie reached the tent, Logan came out and he vomited. Winnie dropped the axe. 
The next morning the Gibsons and Winnie's group went to a Holiday Inn. Cinnamon, Adam, and Winnie went to the pool where they saw a father trying to get one of his daughters to go down the pool slide headfirst by offering them 10 dollars. Cinnamon took Winnie's hand and told the man that Winnie would do it. So Winnie plucked up the courage and did it. The man gave her the well earned 10 dollars and Winnie took Adam and Cinnamon to get virgin pina coladas. 
"August was as hot as sin." Everyone was cranky expecially Winnie's mom. One day Winnie's mom, Ellen, forces Winnie to set the table even through it was Ty's turn. Ellen makes a joke saying that if she got a divorce with Winnie's dad, then he would get full custody. This really hurt Winnie and almost caused her to cry. Winnie went and called everyone for dinner. Ellen tells Sandra that she needs to drive to the Farmers Market and that Winnie's dad needs to take the kids to get haircuts at Kool Kuts. Winnie did not want to since she was growing it long for locks of love. Ellen told Winnie that she didnt have to get a haircut but she still had to go. Ty then questioned why he should get a haircut and why Winnie shouldnt. Ellen said that boys need to keep their hair short. Sandra said that saying that boys need to keep their hair short was sexist. Sandra tells Ty that he cant keep his hair long because he dosn't have a vagina. Winnie's dad yells at them to stop talking about that at the diner table. Ellen can't take it anymore and she puts two closed fists to her forehead. Ty then complained because he noticed that his chicken fingers were not the good kind. Ellen then slammed her hands down and screamed. Ty started crying and Ellen glared at him, which made Winnie hate her. 
At Kool Kuts, Ty started complaining and said that he didnt want to get a haircut anymore. Winnie went up to him and asked him if everything was alright. Ty told Winnie that he didn't want mom to break into pieces. Winnie assured him that she wont, but Ty also wanted to keep his hair so Winnie got a plastic bag and gave it to the haircutter lady. 
Ty took his hair everywhere with him. One day when Ty, Winnie, and Sandra were playing Monapoly, Sandra said that the hair was vile. Ellen walked in and told Ty to put the hair away in a mean tone. Winnie really didnt like her mom because she was being so mean. But Ellen sensed that she was mean and tried again, being nicer this time. Then she asked Winnie if she could talk to her alone. Ellen and Winnie walked into the den and Ellen told Winnie that she's pregnant! Winnie and Ellen calculated the babies birthday to be sometime in March, just like Winnie's! Ellen and Winnie go and tell Sandra and Ty about the news.
SeptemberEdit
It's the begening of the new school year. Winnie is waiting for Cinnamon and Dinah to show up. Cinnamon came running to Winnie and kicked her leg up and said "Am I okay?" Cinnamon got her period and she didnt want anything to show. Winnie was feeling a little bit jealous of Cinnamon's outfit. She wanted to look good for Lars since it would be the first day seeing him since he got back from Prague. Dinah comes running to them. They greet each other and watch everyone else at the junior high's main enterance. They spot Amanda and see that Amanda is still in her black stage. They also see Gail. Cinnamon says that Gail was a model for the Sears back to school catalogue. They also spot Malena and Dinah says that she fooled around with a guy from a new Disney Channel show. The bell rings announcing homeroom and Winnie closes her eyes she instructs herself to be calm and confident and fabulous. And witty, if possible, but not in a show-off-y way. And kind.
Winnie didn't see Lars all day because now he was in the High School building which was seperate from the junior high school building. She saw him at lunch and he saluted! Lars got cuter over the summer, his hair was longer, and his shoulders were broader. Winnie, Cinnamon, and Dinah all finished their food fast to go meet up with him. He was out on the quad with his best friend Bryce and two other girls that Winnie didn't know. One of the girls asked Lars Prague vs. Paris and Lars started analysing street life, cafes, and cappuccino. Winnie nudged Lars' knee and told him to tell everyone about the singing barista with the really thick accent. Lars deadpanned "Well there was a singing barista. She had a really thick accent, because guess what, she was from Prague." He also adjusted himself so their knees didn't touch. Winnie wondered why he was being so mean and why he made fun of her like that. But Winnie forced herself to look like she didn't care. Then Bryce and Lars had to go to class and everyone left.
Ellen took Winnie and Ty to Baskin- Robbins to celebrate the first day of school. By the time they got home, it started to get dark. Ty noticed Lars sitting on the front porch. Winnie walked over to Lars and waited for Ellen and Ty to leave. Then, Lars took Winnie's hand and pulled her towards him. They kissed again and again. 
Westminster had a teacher workday so Winnie went over to Trinity and helped out in Ty's class. Winnie was assigned to work with Joseph for some alone time with him. Winnie made Joseph read some lines from his workbook, but that soon got boring so Winnie got the book Shrek from the bookshelf. By the last page of the book, Joseph's cheek was against Winnie's arm. At break time all the kids ran outside but Joseph walked. Ellen and Joseph's teacher: Mrs. Webber were talking about Joseph untill it was time for Winnie and Ellen to go home. Winnie asked to be dropped off at Cinnamon's house. But when Winnie got there, Cinnamon and Dinah turned Winnie around so they could all go to Bryce's house to play pool. By the time they all got to Bryce's, the guys- Bryce and Lars, and two other sophmore boys were already in a game. The two girls from earlier on in September were not there. Winnie noticed that Cinnamon has a crush on Bryce. Lars won the game at the end. The group took a break for snacks and drinks. They were all talking about Halloween and how none of them were going trick or treating. Then Dinah said that she loved going trick or treating. Cinnamon then said "better not" while patting her tummy. Winnie thought that she was poking fun at herself, but then it became clear that she was making fun of Dinah. Cinnamon then told everyone a story about getting everyones fat index measured in PE, and how Dinah has the biggest amount. Winnie was too shocked to stand up for Dinah.
The next day, Winnie felt bad for not saying something to Cinnamon. Dinah kept asking Winnie if she was fat and Winnie kept telling her no. One day over the phone, Winnie said to Dinah that she's is a little chubby, but it didn't matter. Dinah said that she would e-mail Cinnamon and tell her off. Also Dinah told Winnie that sometimes Winnie's hair got a little bit greasy and stringy. Winnie hung up the phone and instead of washing her hair, she decided that she would dress up as Ugly Girl for Halloween. She would do it  to dedicate her uglyness to beauty within.
The next day Cinnamon was the first to see Winnie dressed up as Ugly Girl. When Dinah came, she was just as shocked as Cinnamon was. Cinnamon thought that Winnie was doing it to show that Cinnamon was being a big jerk to Dinah. Then Cinnamon and Dinah took Winnie and forced her into the bathroom. They wanted to wash her hair and change her outfit, but Winnie wouldnt let them touch her outfit. 
Winnie, Cinnamon, and Dinah are all talking about Ellen's (Winnie's mom) pregnancy. Winnie talks about her mom eating Krispy Kreme donuts every day and then she says "That's right. I love the Krispy Kreme." This was a reference to Bryce and how he said "I love the cashew." Cinnamon told her friends not to make fun of her Brycie and that she loved her Brycie. Cinnamon and Bryce have been going out for three weeks and Winnie didnt think that Bryce loved her back. 
Winnie, Dinah, Cinnamon, Bryce, and Lars were all invited to a bat mitzvah that was hosted by a girl in Winnie's year named Becca. Winnie, Dinah, and Cinnamon all went dress shopping at the mall. When the day finally came, Ellen dropped them off at the Ahavath Achim Synagogue.The ceremony was first, which Lars and Bryce missed. After the ceremony came the party. The party had a DJ, chocolate fountain, and stacks of presants for Becca. The DJ called out for a game of Coke and Pepsi with partners. Cinnamon saw Bryce and Lars coming in, so Winnie and Cinnamon ran to get them. In the middle of the ballroom, where the game was played, two lines formed. The girls went to the coke side and the boys went to the pepsi side. After Winnie lost, she and Lars went out. After the whole game was done the DJ called for a game called Huggy Bear. But Lars refused to play, and insted he went to make a flying carpet video with Winnie. The party was a success overall.
On Monday, Winnie and the rest of her family went to see Ellens ultrasound. Everyone wanted to know the babies gender. Winnie secretly wanted a baby sister. Soon the family saw the baby on the screen, and the technician asked if they wanted to know the gender. Ellen nodded, and they found out that they were going to have a girl. 
Now that Winnie's family knew the gender of the baby, it was time to pick a name. Winnie's dad was trying to be funny by suggesting wild names and this got Sandra irritated. Sandra was stressed out because of college applications. The whole family had a lot on their plate. Ty was the co-president of a club at his school called the Bad Scary Dry Cleaners, and Winnie needed to finish her Christmas list. She needed to figure out what she was buying for everyone. For Dinah and Cinnamon she was planning to get them both Life Is Good shirts, but she was stuck on what to get for Lars. In addition to Christmas pressure, Winnie was stressing over her relationship. She thought that something wasn't right anymore with her and Lars. But she had a date with Lars over at her house tonight and she was planning to correct things with him. Winnie had a spa day to herself to prepare for Lars. When it was almost time for him to come over she put on the finishing touch of her makeup and went to relax on the sofa with Ty. Lars was supposed to be there by seven, and it was already seven-thirty. Winnie was getting worried. By eight-o-five Lars still wasn't here, so she went and called him. Lars apparently got busy on the computer. Winnie felt even worse about her relationship with Lars. 
The next morning Cinnamon called Winnie to tell her that Bryce broke up with her. Winnie went over to Cinnamons house to comfort her. Dinah came over as well. Dinah told Cinnamon that he will realize that he made a mistake, but Winnie didn't want Cinnamon to get her hopes up. Cinnamon called Winnie out for having a perfect relationship, so Winnie told Cinnamon and Dinah about how last night Lars got too busy on the computer then to rather hang out with her. But Cinnamon told Winnie that Lars lied to her. That he was with Bryce and the two sophmore girls:  nose-ring girl and Stephanie. Winnie started to cry as well. 
On Monday Dinah and Cinnamon protected Winnie from Lars, and Winnie and Dinah protected Cinnamon from Bryce. When Winnie was on the quad alone Lars caught up her her. Winnie wanted to confront him and tell him that she knew, but she chickened out and just let Lars buy her hot chocolate.
When Winnie got home that day, she went to talk to her brother Ty. She asked him about Joseph and Ty told her that he wasn't part of the Bad Scary Dry Cleaners because he wasn't in school a lot. Winnie felt really bad, it was the holidays, no one deserved to be in the hospital. So Winnie took her mom and they both went to the hair stylist. Winnie was going to cut off 10 inches to donate for Locks of Love. She wanted it to be turned into a wig in time for Christmas. 
Winnie got Ty a toy lizard for Christmas and he loved it. Winnie was getting ready for school in the moring, and Ty and his new lizard, whom he named Sneaky Bob, were with Winnie. Winnie put on the earrings that Lars gave her for Christmas.  While Winnie was going to school, she was thinking about Lars and how he only treated her right when they were alone. When nose-ring girl was there, thats when Lars starts to act like a jerk. Winnie's new goal of the new year was to help Lars set a new pattern. With Cinnamon and Dinah, Winnie went to search for Lars in the boys' building on campus. For homeroom, the boys and the girls were seperated, but for first period they would join together. They saw Lars by his locker. He was wearing his Christmas present from Winnie, which was a Life Is Good shirt. She decided to get him that and to get Cinnamon and Dinah both baskets of goodies from The Body Shop. Winnie, Cinnamon, and Dinah went up to Lars. Lars took Winnie by the waist. They talked for a bit untill Lars's hand left. Winnie noticed that nose-ring girl was headed their way. She was visiting Lars. Nose-Ring girl bumped Lars's hip and said "Great party Friday, huh?" But Lars told Winnie that he was hanging out with the guys on Friday, not going to Stephanie's party. Lars lied to her yet again. By this time she had to get back to the junior high building. 
The next day, Winnie skipped lunch. She went to the dumpster area behind the cafeteria instead. Amanda was there, and Winnie went to see her. Winnie wanted to ask Amanda if she went to Stephanie's party. Amanda did go. Winnie asked Amanda if Lars was there. Amada told her that he was there and that Brianna (a.k.a nose-ring girl) was hanging all over him. Amanda told Winnie that Lars didn't tell her no, but he didn't reciprocate. 
At home, Winnie was waiting for Lars to call her. But then Ellen (Winnie's mom) asks Winnie if she can go to the hospital with Ty to visit Joseph. Ellen tells Winnie that Joseph isn't responding well to his treatment. But Winnie dosn't want to go because she dosn't want to miss a call from Lars. Winnie goes anyways, and Ty brings Sneaky Bob with him. Ty and Joseph play together and when it's almost time to go, Ty asks Winnie if Sneaky Bob can stay with Joseph. Winnie told him that it wouldn't hurt her so Ty gave Sneaky Bob to Joseph. 
At home Winnie checked if Lars called her. He didn't. So Winnie called him. She told him that he has to be nicer to her or she'll have to break up with him. Then she hung up. 
It was Valentine's day and it really sucked for Winnie. She was still fighting with Lars and she was mad. She dressed up in all black because she figured that she was in mourning, so she might as well dress like it. During the car ride with her sister, Sandra, Winnie asked if they could skip school. Just for today. Then Sandra flicks off the turn signal and passes the school gate. Sandra calls the school pretending to be her mom and reports them sick. Sandra and Winnie go to Katz' deli. They eat bagels with roast beef and Muenster cheese. Sandra vents about going to college and leaving all her friends behind, and leaving her boyfrind Bo. But although Sandra loves Bo, she's not sure that she wants to stay with her first boyfriend forever and not know what it's like to date other people. Winnie asks how Sandra made Bo love her. But she immediatly regrets it. Sandra dosn't answer, instead she asks if roast beef is supposed to glisten. Winnie spits out the rotton roast beef out of her mouth and runs to the bathroon. A little bit of vomit splattered onto her shirt. Sandra and Winnie leave to go to the mall, then to Memorial Park. At three-thirty they went home. While still in the car, Sandra told Winnie that you can't make somebody love you, and that you also can't wallow. Wallowing will get you nowhere. Sandra tells Winnie that she needs to step up and talk to Lars and that it can't make things any worse.
At home, right when Sandra and Winnie enter the house, their mom (Ellen) comes stomping to them. Ellen found Winnie's English paper at home, so she delivered it to school, but she found out that Winnie and Sandra were absent. Sandra claims that she's a mess and that she dosn't even trust her own judgement anymore. Then the phone rings and Ellen leaves to go answer it. Ellen comes black with news from Ty's teacher that Joseph is responding to the treatment and it looks like he's going to be okay. Sandra and Winnie are still punished. Winnie asks her mom if she could go outside to do something really quick. Her mom lets her and Winnie bikes to Bryce's house. Lars and Winnie go outside to talk. Winnie tells him about cutting school. Then Winnie asks Lars if he wants to be broken up. Lars shook his head and he embraced Winnie in a hug. Winnie saw that Lars was crying. Then Winnie lets Lars apologize. Everything is happy again, and Winnie goes home. 
March
"Magnolia Grace Perry burst into the world on a drizzly Saturday afternoon." She was born 3 days before Winnie's birthday. Sandra drove Ty and Winnie to the hospital as soon as their dad called with the news. Above the building, they saw a rainbow. When they came into their mom's room, Magnolia was nursing. When she stopped Ty held her. Then he gave her to Winnie so it could be youngest to oldest. Winnie walked with Maggie to the hospital window. Winnie whispers to Maggie "Oh, little Mags, I have so much to tell you."
The Thirteen book covers